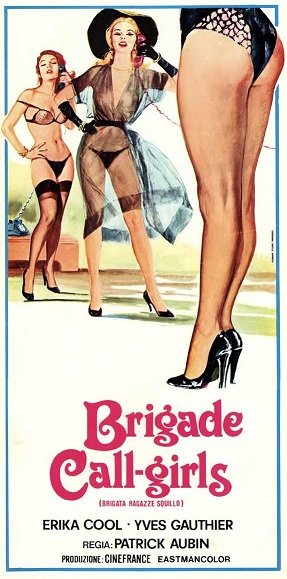 Year: 1977
Country: France
Genre: Classic, Feature
Quality: DVDRip
Language: Original
Director: Jean-Claude Roy (Patrick Aubin)
Studio: Impex Films
Starring: Jean-Yves Gautier, Erika Cool, Paul Bisciglia, Daniele Vlaminck, Raoul Curet, Gerard Croce, Joelle Le Quement, Thierry de Brem, Jacques Gateau, Anne Libert, Marie-Christine Chireix, Monique Ciron, Gilbert Servien, Robert Darmel, Marcel Tran, Cesar Torres
Description: A mysterious maniac kills call-girls of Madame Chlo's network. Why does Leila not return from her mission in Moscow? Why does Madame Chlo send some of her girls to the dentist before their mission abroad? What is the exact role of the Counselor Bruner ? Jacques Lefin conducts the investigation … but he is himself watched and in danger,… which does not prevent him from taking particular care of the call-girls alive and more particularly of a beautiful prostitute, Gigi (Erika Cool).
A quite hectic thriller with a lot of dead bodies but, fortunately, much more fresh flesh.
File Size: ~750MB
Resolution: 720×480
Duration: 78 min
Format: mp4
Download Link(s):
Brigade call girls.part1.rar – 378.0 MB
Brigade call girls.part2.rar – 377.9 MB