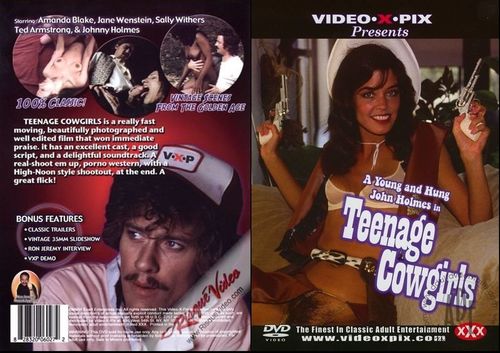 Year: 1973
Country: USA
Genre: Classic, Feature
Director: Ted Denver
Studio: Video X Pix / Distribpix Inc
Starring: John C. Holmes, Ted Armstrong, Amanda Blake, Jane Wenstein, Sally Withers
Description: TEENAGE COWGIRLS is a really fast moving, beautifully photographed and well edited film that won immediate praise. it has an excellent cast, a good script, and a delightful soundtrack. A real-shoot em up, porno western, with a High-Noon style shootout, at the end. A great flick!
Quality: DVD5
File Size: ~4000MB
Video: 720×480 4/3 6270 kbps 29.970fps
Audio: English: AC3 Dolby Digital, 48000Hz, 2ch, 192kbps
Duration: 1 hour 03 mins
Download Link(s):
Teenage Cowgirls.part01.rar – 295.0 MB
Teenage Cowgirls.part02.rar – 295.0 MB
Teenage Cowgirls.part03.rar – 295.0 MB
Teenage Cowgirls.part04.rar – 295.0 MB
Teenage Cowgirls.part05.rar – 295.0 MB
Teenage Cowgirls.part06.rar – 295.0 MB
Teenage Cowgirls.part07.rar – 295.0 MB
Teenage Cowgirls.part08.rar – 295.0 MB
Teenage Cowgirls.part09.rar – 295.0 MB
Teenage Cowgirls.part10.rar – 295.0 MB
Teenage Cowgirls.part11.rar – 295.0 MB
Teenage Cowgirls.part12.rar – 295.0 MB
Teenage Cowgirls.part13.rar – 236.4 MB