Posted by
icicle
on Aug 14, 2014 in
Feature
,
Films
,
Vintage
|
0 comments
Year: 1988
Country: USA
Genre: Feature
Quality: VHSRip
Language: Original
Director: Ron Jeremy
Studio: Las Vegas Video
Starring: Alexa Parks, Dana Lynn, Gail Force, Kim Alexis, Tracey Adams, Toni Christian, Frank James, Jesse Eastern, Jon Dough, Ray Victory, Ron Jeremy, Jan Sanders
Description: Now if this contest were a dual of speedtalksters, matching up Ron Jeremy and Jerry Butler might have some intriguing possibilities. Come to think of it, that might have been the only reason to prompt watching this feature – a virtual waste of time. Ron is the m.c. of The Great Sex Contest Round II wherein an audience "watches" (presumably) Jerry and "wife" Porsche competing offstage with separate partners to see who's the better lover. Why? You're guess is as good as mine because there's a lot of non-Lynn/Butler sex scenes that have absolutely nothing within a hide's hair to do with the story. The opening set with Blake Palmer and Cassie Nova has Cassie once again turning on enough heat to bake a cake. Otherwise, a lot of down time here.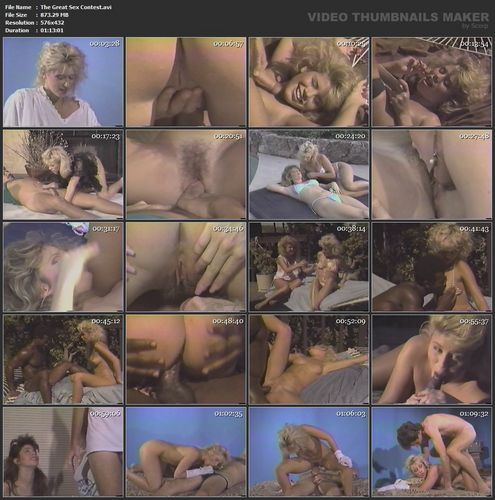 File Size: ~850MB
Resolution: 576×432
Duration: 73 min
Format: avi
Download Link(s):
The Great Sex Contest.part1.rar – 291.1 MB
The Great Sex Contest.part2.rar – 291.1 MB
The Great Sex Contest.part3.rar – 291.1 MB
Tags:
Alexa Parks
,
Dana Lynn
,
English
,
Frank James
,
Gail Force
,
Jan Sanders
,
Jesse Eastern
,
Jon Dough
,
Kim Alexis
,
Las Vegas Video
,
Ray Victory
,
Ron Jeremy
,
Toni Christian
,
Tracey Adams
,
USA
,
Vintage