Year: 1985
Country: USA
Genre: Feature, Couples, Classic
Quality: DVDRip
Language: Original
Director: Alex DeRenzy
Studio: Cal Vista Classics
Starring: Erica Idol, Gina Carrera, Ginger Lynn, Jacqueline Lorians, Joanna Storm, Kelly Nichols, Lois Ayres, Nina Hartley, Dan T. Mann, Jamie Gillis, John Leslie, Kirk Wilder
Description: Eight beautiful young women who know what they want. and get it!
When Officer Gillis and his partner, Dan Mann, check the cavities of big-busted suspect, Sondra Stillman, they find more than they bargained for. Sondra quickly turns the tables on these boys in blue and now she's in a lot of trouble for committing numerous perversions on a couple of cops. Jacqueline Lorians gets it on with her horny girlfriend Gina Carrera; Kelly Nichols seduces sweetheart Erica Idol; Kirk Wilder lays her low with some heavy equipment; John Leslie drills his slutty sister-in-law; Nina Hartley, in a sizzling HEAD TO HEAD controntation; and so it goes!!
Alex deRenzy loves his movies nasty… and there is plenty of that in BALL BUSTERS! This is the original, uncut CLASSIC but even better!! Completely digitally re-mastered for DVD. Don't miss this film. A must have for collectors and devotees of adult films!!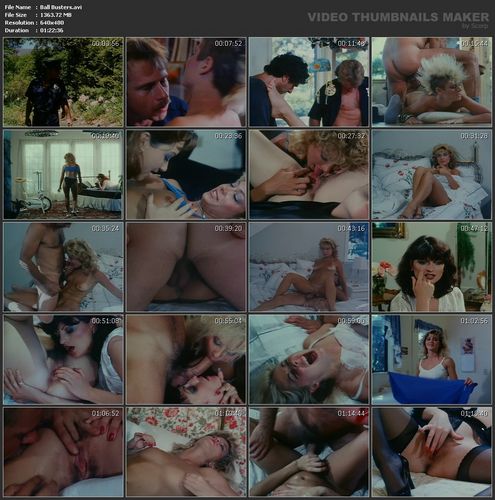 File Size: ~1350MB
Resolution: 640×480
Duration: 83 min
Format: avi
Download Link(s):
Ball Busters.part1.rar – 272.7 MB
Ball Busters.part2.rar – 272.7 MB
Ball Busters.part3.rar – 272.7 MB
Ball Busters.part4.rar – 272.7 MB
Ball Busters.part5.rar – 272.7 MB