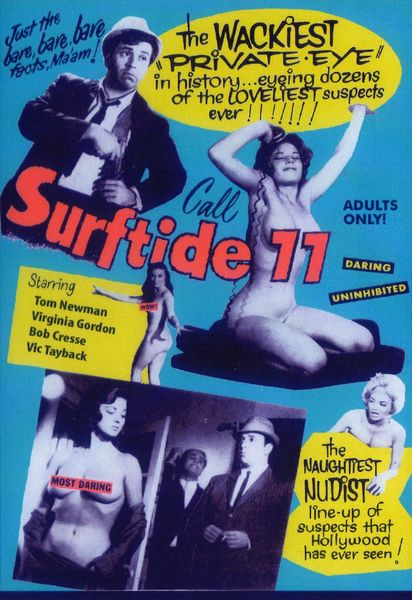 Year: 1962
Country: USA
Genre: Comedy, Erotic
Quality: DVDRip
Language: Original
Director: Lee Frost
Studio: Olympic International Films, Vulcan
Starring: Thomas Newman, Bob Cresse, Dwayne Winton, Maurice Julian, Howard Dayton, Vic Tayback, Sue Stern, Eva Kennedi, Harriet Vecker, Rick Davis, Jon Lackey, Erik Holland, Tom Carrol, Tom Patican Jr.
Description: Private Eye Bernard Bingbang (TOM NEWMAN) is hired by old lady Agatha Bungworthy to find her runaway niece Cynthia, heir to the family fortune, before that fortune goes to nasty Uncle Philip. Bingbang's only clue to the niece's identity: she has a birthmark that looks like a butterfly right above her left nipple. Naturally, in true Nudie-Cutie fashion, "The Case of the Hidden Butterfly Birthmark" means our hero will have to see numerous naked breasts in order to find the missing heiress.
File Size: ~600MB
Resolution: 704×528
Duration: 66 min
Format: mkv
Download Link(s):
Surftide 77.part1.rar – 298.0 MB
Surftide 77.part2.rar – 298.0 MB
Tags:
Bob Cresse
,
comedy
,
DVDRip
,
Dwayne Winton
,
English
,
Erik Holland
,
erotic
,
Eva Kennedi
,
films
,
Harriet Vecker
,
Howard Dayton
,
Jon Lackey
,
Lee Frost
,
Maurice Julian
,
Olympic International Films
,
Rick Davis
,
Sue Stern
,
Thomas Newman
,
Tom Carrol
,
Tom Patican Jr.
,
USA
,
Vic Tayback
,
Vintage
,
Vulcan