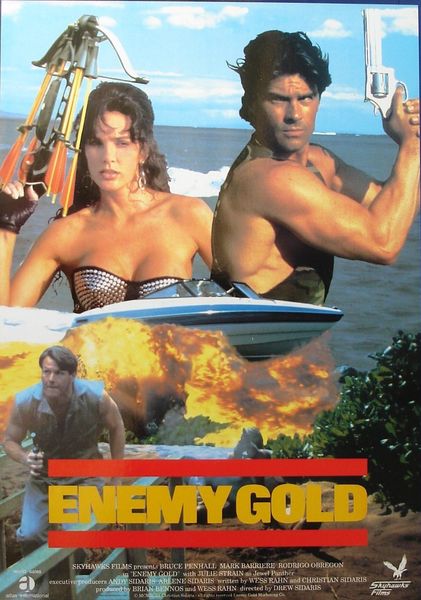 Year: 1993
Country: USA / Germany / Japan
Genre: Action, Adventure, Thriller, Erotic
Quality: DVDRip
Language: English
Director: Christian Drew Sidaris
Studio: Skyhawks Films, MBP (Germany), Starlight Film
Starring: Bruce Penhall, Mark Barriere, Suzi Simpson, Tanquil Lisa Collins, Rodrigo Obregon, Julie Strain, Alan Abelew, Tom Abbott, Ron Browning, Kym Malin, Stacy Lynn Brown, Angela Wright, Carl Weatherly, Don Primrose Jr., Cassidy Phillips
Description: Three Federal agents go in search of gold supposedly hidden by Quantrell during the Civil War after they are suspended by a corrupt official for excessive force during a drug raid. Meanwhile a drug lord (Obregon) hires a hit woman (Strain) to kill the three for interfering with his operations.
File Size: ~1500MB
Resolution: 640×480
Duration: 93 min
Format: avi
Download Link(s):
Enemy Gold.part1.rar – 297.6 MB
Enemy Gold.part2.rar – 297.6 MB
Enemy Gold.part3.rar – 297.6 MB
Enemy Gold.part4.rar – 297.6 MB
Enemy Gold.part5.rar – 297.5 MB
Tags:
action
,
Adventure
,
Alan Abelew
,
Angela Wright
,
Bruce Penhall
,
Carl Weatherly
,
Cassidy Phillips
,
Christian Drew Sidaris
,
Don Primrose Jr.
,
DVDRip
,
English
,
erotic
,
films
,
Germany
,
Japan
,
Julie Strain
,
Kym Malin
,
Mark Barriere
,
MBP
,
Rodrigo Obregon
,
Ron Browning
,
Skyhawks Films
,
Stacy Lynn Brown
,
Starlight Film
,
Suzi Simpson
,
Tanquil Lisa Collins
,
Thriller
,
Tom Abbott
,
USA
,
Vintage