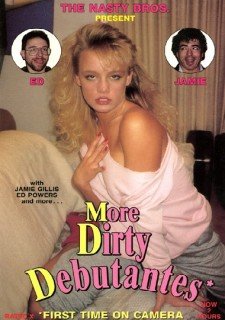 Year: 1990
Country: USA
Genre: Classic
Quality: VHSRip
Language: English
Director: Ed Powers
Studio: Ed Powers Productions
Starring: Heather Lere, Iesha, Sabre, Victoria Starr, Chrystal Manners, Minnie Black, Rebecca Francess, Chelsea, Hans, Ed Powers, Jamie Gillis
Description: Witness Chelsea as she breaks her video cherry by working with Nasty Ed Powers and a hot new talent, Brianna. Jamie Gillis gets Nasty with Chelsea by having her chew on the skin of his balls, lovingly, of course. Rebecca from Finland breaks her video virginity with Ed and her boyfriend Hans, who rules her with his big and hard cock, dripping cum over her lovely belly. Jamie goes the back way on two separate scenes, both girls wanting it deeper and all deliveries to the real. Lovely Native American Eyesha burns your screen with her hot "first time out."
The Nasty Bros. bring you their own private movies made in their living room. More explicit SEX and realism in its raw form all make up the ingredients of "More Dirty Debutantes." Luscious and adorable "Sabre" steps out of retirement to be our segue girl and jacks her pussy off for all the world to see.
File Size: ~1450MB
Resolution: 640×480
Duration: 118 min
Format: mp4
Download Link(s):
More Dirty Debutantes 1.part1.rar – 288.7 MB
More Dirty Debutantes 1.part2.rar – 288.7 MB
More Dirty Debutantes 1.part3.rar – 288.7 MB
More Dirty Debutantes 1.part4.rar – 288.7 MB
More Dirty Debutantes 1.part5.rar – 288.7 MB