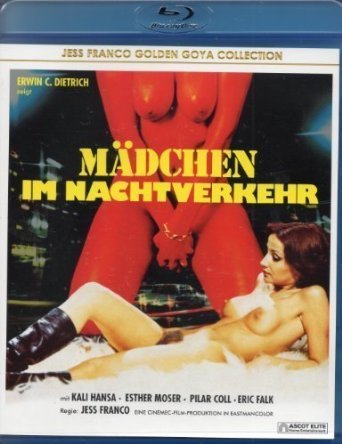 Alternative Title:
Madchen im Nachtverkehr
Year: 1976
Country: Germany
Genre: Classic
Quality: BDRip
Language: Original
Subtitles: English
Director: Erwin C. Dietrich (as Michael Thomas), Jess Franco
Starring: Kali Hansa, Pilar Coll, Esther Moser, Eric Falk, Roman Huber, Marlies Haas, Paul Nussbaumer, Adriano Veronesi, Diotta Fatou, Yvonne Eduser
Description: We begin with said ladies who are actually high-class hookers, only it appears they have worn themselves out and are now resting; Franco opens with some bizarre music while the girls massage each other and discuss their clients. Using flashbacks amidst the slumber party, Franco wastes no time getting down to business; the women are beautiful, bushy pros who give their Johns exactly what they want, whether it's plain ol' missionary, role-playing as a corpse, or theatrical sex shows.
But when an erotic photographer turns out to be a kidnapping pimp, hijinks ensue. One of the hookers is taken to a Turkish brothel, where the workers appear far less interested in their jobs than the Swiss girls. Soon all of the friends are kidnapped and bored in the brothel, plotting revenge on their captor.
File Size: ~2150MB
Resolution: 1024×558
Duration: 72 min
Format: mkv
Download Link(s):
Girls in the Night Traffic.part1.rar – 309.9 MB
Girls in the Night Traffic.part2.rar – 309.9 MB
Girls in the Night Traffic.part3.rar – 309.9 MB
Girls in the Night Traffic.part4.rar – 309.9 MB
Girls in the Night Traffic.part5.rar – 309.9 MB
Girls in the Night Traffic.part6.rar – 309.9 MB
Girls in the Night Traffic.part7.rar – 309.9 MB