Alternative Title:
Erotic Ghost Story III
Year: 1992
Country: Hong Kong
Genre: Drama, Erotic, Lesbian
Quality: BDRip
Language: Chinese
Subtitles: English
Director: Kai-Ming Lai
Studio: Diagonal Pictures, Image Factory IM Co. Ltd.
Starring: Pauline Chan, Fui-On Shing, King-Man Chik, Rena Otomo, Tak-Bun Wong, Ka-Kui Ho, Aki Tanzawa, Sau Kei Lee, Seng-Kwong Chang, Wai Man Tam, Yiu Ging Lee, Jack Wai-Leung Wong, Ching-Wah Cheung
Description: Chu Chung takes refuge in an old ruin. His arranged betrothed Liu Su-Su follows him there but he does not desire her. The two encounter the monk Reverend Wick. Chu is drawn to a painting on the wall, which opens up to take him into the afterlife where he falls into the arms of I-Meng. Su-Su is then captured by her Ladyship who rules the afterlife. Ladyship tricks Chu into using his powerful yang force and killing the god Chia Yuan, something that gives her total dominion over the afterlife and the power to rule Earth. As Ladyship makes Chu her sex slave, intending to drain his lifeforce, Su-Su and Wick try to save him.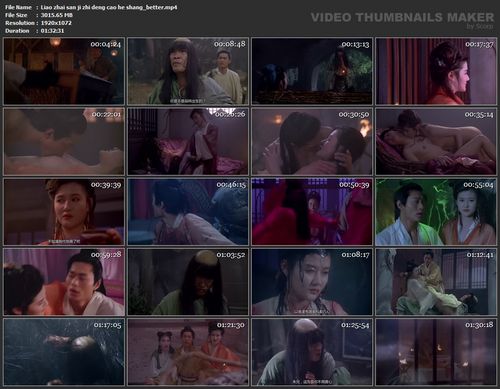 File Size: ~3000MB
Resolution: 1920×1072
Duration: 93 min
Format: mp4
Download Link(s):
Liao zhai san ji zhi deng cao he shang.mp4 – 2.9 GB
Tags:
Aki Tanzawa
,
BDRip
,
Chinese
,
Ching-Wah Cheung
,
Diagonal Pictures
,
drama
,
English
,
erotic
,
films
,
Fui-On Shing
,
Hong Kong
,
Image Factory IM Co. Ltd.
,
Jack Wai-Leung Wong
,
Ka-Kui Ho
,
Kai-Ming Lai
,
King-Man Chik
,
Pauline Chan
,
Rena Otomo
,
Sau Kei Lee
,
Seng-Kwong Chang
,
Tak-Bun Wong
,
Vintage
,
Wai Man Tam
,
Yiu Ging Lee